Dante graduated in Spring 2021 with his B.A. in Psychological Sciences and a minor in Human Development and Family Sciences.
---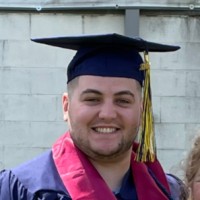 What are you doing now?
I am in Graduate School at the University of Miami working towards my masters in Higher Education Administration with a focus in Student Life and Development. I work part-time as a Fraternity Graduate Assistant for the Dean of Students Office as my Graduate Assistantship. I was involved in Greek Life at UConn and intend to continue my involvement post Masters.
How has your UConn degree helped prepare you for what you're doing now?
My experiences with my fraternity, working in the undergrad psych office, and working with first year programs were all opportunities I took advantage of in undergrad that helped prepare me for what I'm doing now.
Do you have any advice for students with similar career goals regarding how they can get involved with the field?
Get involved!!!! Classes and a degree are only the first step, finding out what you really want to do will come from the experiences and people you meet.
What was one of your favorite things about UConn?
The people I met. I wouldn't be where I am without those connections. They helped me grow into a well-balanced person.
What was your favorite psych course you took?
Anything with Professor Lunquist. He's absolutely hilarious and his dog rocks. Also easily one of the best teachers I had.
---
Connect with Dante via email at: dad303@miami.edu.