Corinna graduated in 2018 with dual degrees: B.A. in Psychological Sciences and a B.S. in Allied Health Sciences.
---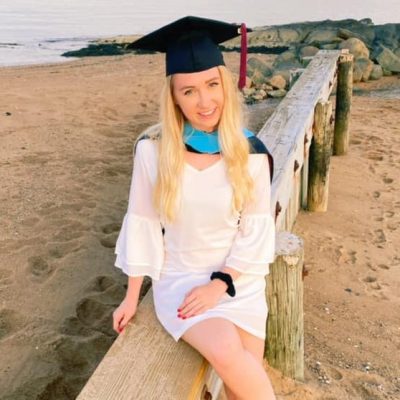 What are you doing now? Why did you choose to go into this field?
I am currently working as an Academic Advisor for Health Sciences students at Goodwin University in East Hartford, CT. When I was an undergraduate student at UConn I was very unsure of what I wanted to do after graduation. When my advisor at the time asked what I could see myself doing someday, I said, "I would love to do what you would do." Today, I love being an advisor and helping undergraduate students find their way into a meaningful career after graduation.
Did you have any post-undergrad education? What kind of degree do you have? What was your post-grad education experience like?
I recently graduated from the Student Affairs Administration program at Springfield College. I was able to try lots of different student advocacy areas such as residence life, campus activities, orientation, and more – advising was my absolute favorite.
How has your UConn degree helped prepare you for what you're doing now?
My UConn experience taught me how important it is to ask for help and utilize the services available around campus. Both of my advisors Paul Bureau and Sarah Scheidel were very helpful to me in making difficult career decisions.
Do you have any advice for students with similar career goals regarding how they can get involved with the field?
If you're interested in psychology and other helping professions, definitely try to get involved in professional associations. I volunteer with NASPA, the association for student affairs professionals, which has helped me make so many great professional connections.
What was one of your favorite things about UConn?
At UConn I loved being part of Alpha Chi Omega and participating as the service chair. Today I volunteer with the Alpha Chi chapter at Trinity College and continue to stay in touch with close friends I made through this experience.
What was your favorite psych course you took?
I loved EPSY3333, Introduction to Counseling and Psychoeducation. I had no idea I would use counseling skills so much in my current position and this class helped me prepare for a career in a helping profession. Professor O'Neil helped me build a foundational understanding of the counseling theories I relied upon through my graduate program as well.
---
Connect with Corinna on LinkedIn. She is open to answering any questions you may have about her career path!