---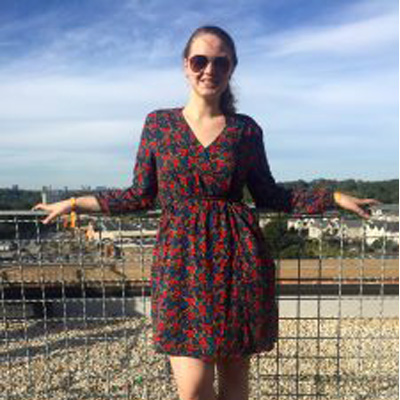 Aiden graduated from UConn in 2017 with a BA in Psychological Sciences, Honors Track. She completed her honors thesis in Dr. Fitch's lab in our Behavioral Neuroscience division.
What are you doing now?
Since July I've been working at the Marcus Autism Center in Atlanta, GA as a Cohen Fellow in Developmental Social Neuroscience. Using eye-tracking technology, we study the development of social engagement in children with the aim of exploring early behavioral and attentional markers of autism spectrum disorder. In addition, I'm beginning the application process for graduate studies in developmental psychology and public health, with the ultimate aim of designing evidence-based health policy that promotes optimal child health and well-being.
What do you hope to be doing 5 years from now?
Hopefully, I'll be in the middle of writing/researching my doctoral dissertation, probably holed up in the lab or library.
What was one of your favorite things about UConn?
While living there, two of my favorite things were Mirror Lake in the autumn and March Madness, especially the women's tournament. As a student, I really appreciated the ability to immerse myself in departments that weren't my selected major. Professors and advisors were wonderfully encouraging when it came to getting involved in independent studies or coursework from other fields.
What's a piece of advice you would give to current students in our program?
Get involved in some aspect of research that interests you. Not every career path needs explicit research experience on a resume or CV but I'd argue that every career path does require the critical thinking and collaborative skills to be gained from asking and investigating original questions.
---